In an effort to class up this joint, I've been buying a few small pieces of art. Books, prints, vinyl toys and the like. Small stuff, mostly. No major investments, unless you count the inevitable bajillions I will one day not make off my own work. Now, in an effort to avoid laundry for another half hour, I'm telling you all the freak about it.
Last month I finally managed to get up to New York and visit with my kindred JP, of Art Brut(e) fame. The epic adventures and mild heathenism experienced deserve their own post (and an offering of the photos I snapped while up there), but one of the many, many slices of awesome I got to see while I was up there was the Alexander McQueen Savage Beauty exhibit at The Met.
I was originally pretty bummed out because the show had been slatted to end two weeks before I'd even be in New York and I had to resign myself to missing out on seeing the icon's work in person and decided I'd just have to buy the book while up there and content myself with that.
But then, last minute, they extended the show and I made it in the last days. Five hours of standing in line later- no joke, we were really in line for that long. I finally got to see the work of one of my idols.
To some, fashion is clothes and nothing but. No matter how you present it to them, it'll always still be clothes. But there are still people who will deny comic books as legitimate literature and to them, I proffer my middle finger. I do the same to those who can look at the work of McQueen and do not see the art.
The exhibit I'll hold off on gushing about until the actual New York post, but it was amazing. It was one of those insane moments in your life where you feel an immensity before you and I'm so thankful that, not only was the show extended, but that my friends were willing to stand in line with me for over five hours. And wait patiently while I ran off to buy the companion book.
As far as owning art books, this is really one of my first for realsies one. However, it was quickly followed by receiving Kris Kuksi's Divination & Delusion from my brother as an (extremely) belated birthday present.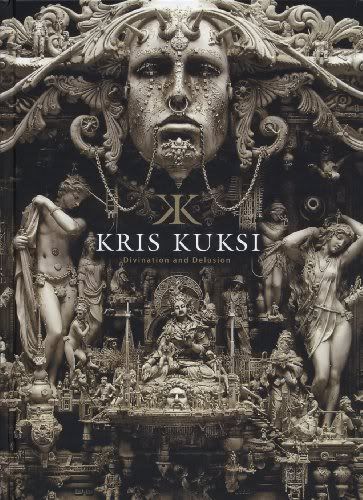 Kuksi is this insane Rococo style sculptor who has been making a lot of splashes lately. His pieces are compulsive and elaborate and, in truth, a little over whelming when you first encounter them.
The thing about art books is that they are stupid expensive. I mean, it makes sense, I know how much it costs to print high quality pictures, but how many artists are laying around with 100 bones they can afford to toss at a Francesca Woodman book? Not this diva.
However, a couple weeks back, I came across Ashley Wood's Sparrow collection. Each book features a different artist and, for about $12, offers you 50 pages of their work, often with preliminary sketches and the kind.
I've splurged on four so far, one by Ashley Wood himself, as well as Phil Hale, Glenn Barr and John Watkiss. They're small and concise. They don't waste anytime inventing meaning behind the work, they just present it to you and allow you to digest. It's something I can really appreciate.
The gallery I am showing at this month had several prints by Dave Perillo. Kitschy, retro and pop culture filled, I picked a couple up:
Look, while I can't say Flash without doing it in a singsong voice in homage to Freddy Mercury, I am also known by many a friend to be a wee bit Kraken obsessed. So, it was pretty much a "Holy crap" when I saw this little gem:
Tomorrow I will have to go buy some frames for these babies. And speaking of things I need to frame when ever the flying freak they get here, I ordered these from The Kills website:
I had to go through hell to order them, due to the complicated set up of their website's credit card service, but order them I did, friends. Order them I did. And I've been feverishly checking the tracking status ever since.
The last little tid bit from my art haul over the last several weeks was actually a vinyl toy I picked up today:
Brandt Peters has a blind box line out, and I'm a notorious sucker for those. I really like the little dude. I'll have to buy more.
And because it's freaking awesome: