I have some pretty early and graphic memories of religion. White buildings, dirty around the skirts with cranberry pews inside and my gran's scripture calender (this was a day to day schedule of part of the Bible to read on what day, if you did it everyday, by the end of the year, you would have studied the entire Scripture).

I know religion is something that's meant to be a comfort for its adherents, and I also know that for many, that's exactly what it is. But for me it was a source of fear. I didn't understand the flaunting of the Christ on the cross and even at a young age there was something I found vulgar in its display. There was something vulgar in all the pluralisms I found within it and eventually I began to accuse.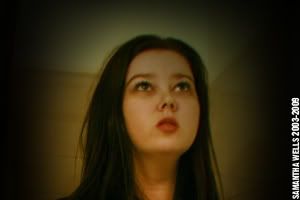 Instead of finding solace in what was shown to me, I found fear. Fear in the shouting, fear in the flesh, fear in the words and fear in the threat. I remember my little brother and I holding each other's hands during Fellowship so we wouldn't have to touch anyone else. And I remember sleeping with my Bible every night because I was afraid not to.

I don't know if I'll ever be able to put to rest the aggressions and conflicts I feel when I look back at these things, but I do know that it continues to pull influence on me. I'm constantly distracted by religious art, religious literature and allegory. It continues to seep itself into my own artwork in varying ways. And maybe that's where I'll find the solace that escaped me as a child. Maybe that's where I'll find the peace that I seem to have missed out on.